I'm going to show you how to paint snow using some basic acrylic pouring techniques that will make it so easy that a beginner could do it. And then you can use these techniques to make any type of winter scene that you want, whether you want to add pine trees, falling snow, wildlife or make it a Christmas scene.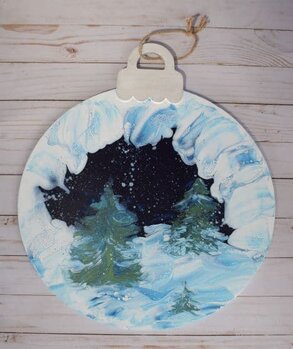 If you're pouring for the first time and would like more explanation on materials, processes, and terms, you can head on over to my Beginner's Guide to Acrylic Pouring. You can also head over to my Comprehensive Guide to Acrylic Pouring Techniques for more information on all of the different techniques and my How to Thin Acrylic Paint for Acrylic Pouring post to learn all about pouring mediums!
So how do you paint snow with acrylic pouring? Well, the main technique that I used was the swipe technique, and I also used a fork to get some texture in there as well as some paintbrush splatter to create snowflakes or snowfall.
What colors do you need to paint a winter landscape painting?
For how to paint snow at night like this, you really only need a handful of colors. I used white (obviously), dark blue for the sky made from black and blue, some silver, and a green for the trees that I mixed up using gold and blue so that it would have a metallic sheen to it.
(If you're curious about colors and color theory as it relates to acrylic pouring, head on over to my post about Choosing Colors for Acrylic Pouring and grab your FREE printable Color Wheel and Color Scheme Guides below!)
Materials You Will Need to Paint a Snowscape Painting with Acrylic Pouring
This post contains affiliate links, which I earn a small comission from. These are provided for your convenience, and the price isn't increased at all.
Paints:
Master's Touch Phthalocyanine
All of the colors that I used were mixed from the colors above.
Pouring Medium:
Tools:
Canvas:
I used a large ornament-shaped wood blank for my canvas for this particular project, but you could definitely use a canvas for your snow painting.
How to Paint Snow with Acrylic Pouring:
Step-by-step Snowy Winter Landscape Painting with Acrylic Pouring
Prep your surface. For this particular canvas, being a wood blank, I took the hanging string off, taped the back off with white painter's tape, and gesso'd the entire front and sides.
Lay down a base coat of dark blue paint and spread it out by either tilting or using a palette knife as I did.
For this painting, because it was an ornament shape, I wanted to go for a frosty snowglobe appearance, so I put white around the entire outside. But if you are doing a traditional canvas, you can just do the white along the ground or bottom of your painting. I also added in a little bit of silver for a hint of metallic in the snow.
Starting with the bottom of the painting swipe the white and silver paint over the blue in long sweeping motions to mimic snow drifts and hills of snow.
If you are creating a frosty outer edge, you'll work your way around the edge of the painting swiping the white starting from the outside toward the center of the painting.
Now it's time for the trees. You'll notice in the video I tried a couple different things for the trees before I got to where I found something that I was happy with. What worked best for me was laying the green paint out in a line where you want the center of the tree and then roughing the shape out with a palette knife first. Then go back and add the texture with the fork. Don't panic if you don't like one of your trees, you can always do what I did and pull it off and go again. Don't give up and keep working on them!
For the finishing touch, get some of your thinned white paint on a paint brush that you don't love too terribly much and splatter some white snowflakes to add snowfall to your piece!
Go Forth and Pour!
So there you have it, how to paint snow with acrylics and how to make it look like it's snowing in a painting. These snowy trees are sure to brighten your home.
If you're interested in more winter landscape paintings, check out my post on painting mountains and learn how to paint snow on mountains, and I have a ton of other nature painting projects as well.
As always, check out my updates on Facebook and Instagram and feel free to peruse Homebody Hall for more fluid art tips, tricks, and tutorials! Also head over to Youtube and subscribe to get my videos sent to you as soon as they come out!!
And now you can joing my Facebook Group, Flourishing Fluid Arts with Homebody Hall and get help, tips, inspiration and just hang out and have a great time!
And as it's getting closer to the holidays, you may be needing some ideas to give your loved ones of what they can get you for Christmas, so I've put together my list of 43 Genius Gift Ideas for Artists who are into Acrylic Pouring.