Day 26 of my acrylic pouring color theory series is a flip and drag acrylic pour with various shades of purple along with black and white. Much of the violet got washed out in this one, but what I love so much about this one is the formation of the cells and the movement they convey. And the underlying violet tone is just a fun, whimsical pop of color.
If you're looking for some wall art that is fun and a little funky, the flip and drag may be just the technique for you!
If you're curious about colors and color theory as it relates to acrylic pouring, head on over to my post about Choosing Colors for Acrylic Pouring and grab your FREE printable Color Wheel and Color Scheme Guides.
If you would like to follow along with my 30-day acrylic pouring color theory video series, grab your very own color wheel and color scheme guides and some paint, and head on over to the color theory section of Homebody Hall!
This post contains affiliate links, which I earn a small comission from. These are provided for your convenience, and the price isn't increased at all.
Color of the Day (Day 26 – Flip and Drag Acrylic Pouring):
Color Scheme:
Shades Chosen:
Neutral Chosen:
Technique:
Flip and Drag Acrylic Pour
Paints:
All of the colors I used were mixed from the paint colors below. (Blue and magenta for violet, mixed with different amounts of white for the various shades of violet)
I used magenta for my violet hues because I think it makes a less muddy color because there isn't a yellow undertone to it as there is with red. So if you ever want to make a very vivid violet color, go with magenta. I have found that I actually prefer the Liquitex Basics Quinacridone Magenta to the Artist's Loft Brilliant Magenta.
Pouring Medium:
Canvas:
Sealant:
Flip and Drag Acrylic Pour Video Tutorial
Flip and Drag Acrylic Pour Step by Step
Lay down a base coat of your background color. I didn't do this for this painting, but it works much better if you do because it helps the paint to flow across the canvas.
Layer your pour cup with your paints, pouring in different amounts and variations in heights. The order I layered my paints for this painting was: light violet, violet, black, white, light violet, violet, medium violet, black.
Put your canvas facedown on top of your cup. Holding them together, flip the canvas and cup back over as a unit.
After the paint has settled to the canvas, drag the cup across the canvas and remove it and release the paint.
Tilt your painting until the canvas is covered and you are happy with your painting.
Go Forth and Pour!
And that's all there is to it, super easy! So go ahead and give it a try! If you like this technique, check out the original flip cup painting!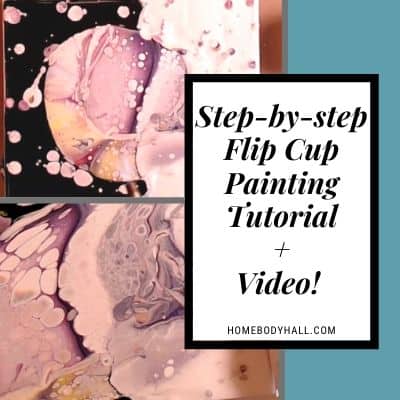 As always, check out my updates on Facebook and Instagram and feel free to peruse Homebody Hall for more fluid art tips, tricks, and tutorials! Also head over to Youtube and subscribe to get my videos sent to you as soon as they come out!!
And now you can joing my Facebook Group, Flourishing Fluid Arts with Homebody Hall and get help, tips, inspiration and just hang out and have a great time!